Welcome to the White Elephant
Hi – My name is Maureen McCarthy, and I am the chairperson for the 2020 White Elephant Parade. It is with deep regret that I am announcing the parade, scheduled for October 31, has been cancelled. The Board of Directors made the decision with a unanimous vote on Monday, June 1, because it is impossible to know what the status of the COVID-19 pandemic will be at that time and if social distancing guidelines will still be in effect.
In consideration of the time and effort it takes the over 100 parade participants to prepare for the parade, Board members felt it is best to call-off this year's parade now. The health and safety of all involved is the White Elephant's number one consideration.
This is only the third time the parade has been cancelled in its 56-year history. It was cancelled in 1965 after ownership of the East Social Center – then the site of the country fair part of the event – was sold to a new owner and the parade was rained out in 1973.
This year's "Midnight Madness Green Valley Style" Sale, traditionally held the Thursday prior to the parade and kicking-off the "country fair" also has been cancelled. The event, featuring "high end" merchandise, lures over 1,000 shoppers within three hours, from 3 to 6pm. This sale will be rescheduled when more information about the virus is known.
The Country Fair White Elephant thrift store has reopened with the Store hours 9am to Noon Monday through Saturday.
Donation drop-off center hours and Pick Up as well are Wednesday – Saturday 8AM-Noon Until Further Notice
Stay safe and healthy. We will get through this time together!
Best regards –
Maureen McCarthy
1st Vice President
White Elephant Board of Directors
Thank You for Visiting the Web Home for the Country Fair White Elephant - We are looking forward to returning to Normal Operations October 1st, 2020

The Country Fair White Elephant has Reopened. We will follow CDC Guidelines in Social Distancing, Mask will be required throughout the Thrift Store. Thank you for supporting the Country Fair White Elephant!
The White Elephant is proud to host festivities each year. It is a perfect time to extend a huge "THANK YOU!" to the entire community of donors, volunteers and shoppers who make it possible for the White Elephant organization to give back to the community in such a grand way.
Store Hours – Monday – Saturday 9am – Noon

Donation Hours Wednesday – Saturday 8AM – Noon Until Further Notice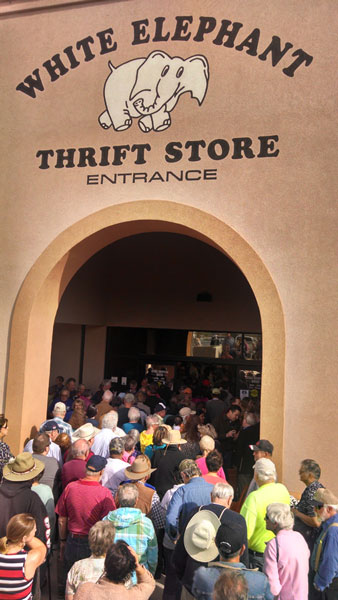 You can find the White Elephant on eBay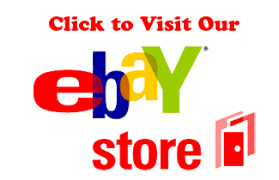 A team of sharp-eyed treasure hunters peruses goods donated to the White Elephant looking for items to send on a seven-day ride on eBay. These items must be special and when they're sold on eBay the prices they bring generally are, too. Among top sellers was a doll collection that brought in more than $600.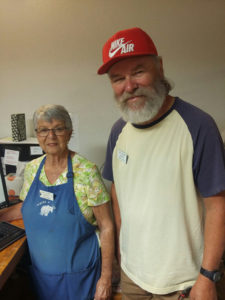 White Elephant volunteer Joyce Barber has been a member of the eBay team since it was formed more than a dozen years ago. Over that period, eBay sales have totaled nearly 12,000 items, valued at more than $483,000. The on-line effort has been a success thanks to all the volunteers who keep eyes peeled for those special items and bring them to the thrift's eBay cage for evaluation when they're discovered. "Often we're looking for origin and value," Barber said. "We research items on eBay to determine comparable value. When that value is something we know we can't get in the thrift store we put the item on eBay."
Regulars on the eBay team include Joyce Barber and Barney Foster who handle a variety of collectibles, electronics and miscellaneous items. To round out the team, sportsman Gary Hurley handles golf and fishing equipment and all things mechanical.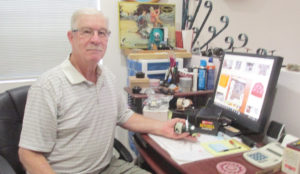 The team agrees, "We enjoy every day knowing we are benefiting our community"
We Are the Country Fair White Elephant

The Country Fair White Elephant Thrift Store was established in 1964 by a handful of volunteers looking for a way to support their community. From those early beginnings, the store has grown to more than 600 dedicated volunteers, working 6 days a week, processing, cleaning and pricing gently used goods for re-sale to the public.
Revenue generated by store sales is contributed each year to more than 130 local schools and charitable service organizations throughout Green Valley, Sahuarita and the Santa Cruz Valley, and the demand continues to grow.
The Country Fair White Elephant Thrift Store also sponsors the annual Country Fair held each year in late October. The Fair features a parade of more than 100 entries, including bands, floats, horses, marching units and more. The Green Valley Village Mall and Continental Shopping Plaza participate with Fair exhibits and booths numbering over 200.
Over $2.2 Million in revenue is generated each year and $1.75 Million goes back directly to community organizations who are recipients of White Elephant grants and to our local students who are recipients of a scholarship through our Country Fair White Elephant Scholarship Foundation. The White Elephant is proud to be able to contribute money right back to our local communities through our granting process. So whether you are a volunteer, a donor, or a shopper, your contributions to the White Elephant are so appreciated by this organization. From all of us here at the White Elephant, thank you for your continued support.