Country Fair White Elephant Distribution Ceremony 2018 and KGVY Radio was there. Check out our Video Coverage of the event which was streamed live from The Green Valley Recreation West Center
White Elephant 2022 Contributions
PUBLIC SCHOOLS
Continental School District, $12,000
Continental School PTC, $3,000
Nogales School District $17,000
Nogales High School $20,000
Pierson VOC High School $13,500
Desert Shadows Middle School $12,000
Wade Carpenter Middle School $9,000
Coronado Elementary School $20,000
Mary Welty Elementary School $10,000
Lincoln Elementary School $12,000
RM Bracker Elementary School $7,000
AJ Mitchell Elementary School $11,400
Santa Cruz Valley School District
Rio Rico High School $18,000
Calabasas Middle School $20,000
Coatimundi Middle School $11,000
Mountain View Elementary School $17,000
San Cayetano Elementary School $14,000
Sahuarita School District
Wrightson Ridge Elementary $19,000
Sahuarita Education Foundation $14,000
Sahuarita High School $14,800
Walden Grove High School $19,000
Sahuarita Intermediate School $20,000
Sahuarita Middle School $20,000
Anza Trail School $16,000
Sahuarita Primary School $20,000
Sopori Elementary School $13,000
Copper View Elementary School $11,000
SUSD Early Childhood Center $4,000
LINK Program $12,000
Sahuarita Digital Pathway Academy $1,900
Total Public Schools $411,600
PRIVATE/OTHER SCHOOLS
Montessori de Santa Cruz $3,500
Los Niños de Valle Pre School $800
St. Andrews PreSchool $3,000
Lourdes Catholic School $5,000
Wings on Words $5,000
Total Private/Other Schools $17,300
Total Schools $428,900
Youth Organizations
Ballet Continental $20,000
Boys & Girls Club – Santa Cruz $30,000
Funhouse Movement Theatre $3,000
Sahuarita Music Boosters $7,000
Wright Flight $16,000
Girl Scouts of S. Arizona $4,000
LPGA/USGA Girls Golf of Green Valley $4,000
Santa Cruz Cardinals $8,000
Rich River Athletic Club $2,000
Wisdom Sports & Scholars $18,000
Red Wolves Music Boosters $4,000
Sahuarita-GV 49ers Football and Cheer $6,000
Sahuarita Community 4H $6,500
Total Youth Organizations $128,500
COMMUNITY ARTS SUPPORT
Green Valley Concert Band $4,000
Green Valley Stage Band $1,000
Hilltop Art Gallery $9,000
Tubac Center for the Arts $8,000
Community Performance & Art Center $23,000
Big Band Sounds of GV $2,000
Total Community Arts $47,000
AREA AND NATURE STUDY
Friends of the Presidio $2,000
Santa Cruz Humane Society $20,000
Paws Patrol $2,000
Equine Voices $8,000
Total Area and Nature Study $32,000
ADULT/CHILD ASSISTANCE
Amado Comm. Food Bank $25,000
United Way of Santa Cruz $4,000
Parkinson's Support Group $13,000
Big Brothers and Sisters of Tucson $1000
Arivaca Human Resources $21,000
Borderlands Food Bank $50,000
Posada Life-Adult $20,000
Posada Life-Behavior $15,000
Posada Life-Community Center $15,000
Crossroads Nogales Mission $40,000
Green Valley's Got Talent $3,000
Valley Assistance Services $55,000
GV Community Food Bank $25,000
GVR Community Foundation $6,000
Angel Heart Pajama Project $5,000
AZ Rangers Madera Company $7,000
Arivaca Comm Center-Facilities $5,000
Arivaca Comm Center-Park & Rec. $6,000
Rebuilding Together $14,000
St. Andrew's Clinic $20,000
Santa Cruz Sheriff DARE $8,000
Santa Cruz Search and Rescue $8,000
Santa Cruz Training Program $7,000
SAV $28,000
Sun Sounds of Arizona $8,000
Teen Challenge $3,000
The Salvation Army $40,000
Tu Nidita Child & Family Clinic $1,000
Tucson Children's Museum $8,000
United Community Health Care $30,000
Youth on Their Own $8,000
Bag It $5,000
Hands of a Friend $15,000
Nogales Comm. Food Bank $25,000
Pima Council on Aging $7,000
Arivaca Action Center $3,000
Sahuarita Police Department $8,000
Friends in Deed $17,000
Sahuarita Food Bank $60,000
Military Order of the World Wars $2,000
Arivaca Helping Hearts $2,000
Rio Rico Historical Society $5,000
Nogales Police DARE Program $5,000
Pimeria Alta Historical Soc. $3,000
GVC Foundation (GDDT) $6,000
Total Adult/Child Assistance $662,000
NATIONAL DISEASE
American Cancer Association $5,000
Total National Disease $5,000
FIRE DISTRICTS
AFD Auxiliary $11,000
Helmet Peak Vol. /Elephant Head Fire Dept. $80,000
Green Valley Fire District $5,600
Total Fire Districts $96,600
Total Outside Grants $1,400,000
White Elephant Scholarship Foundation $95,000
Total Grants $1,495,000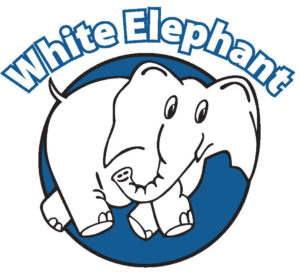 $1,495,000 awarded in 2022!
Despite months-long closures over the past three years due to the pandemic, (three months in 2021) the White Elephant continues to honor its mission of supporting community organizations.
In 2021, we awarded $925,000. In 2020, even though the store was closed for more than six months we gave away $590,000 and in 2019, a non-COVID year, we awarded $1.7 million, which is more typical.
"The community continues to support us with donations and purchases," said Contributions Committee co-chair Judy Barkley. "But, without volunteers, none of this would be possible!"