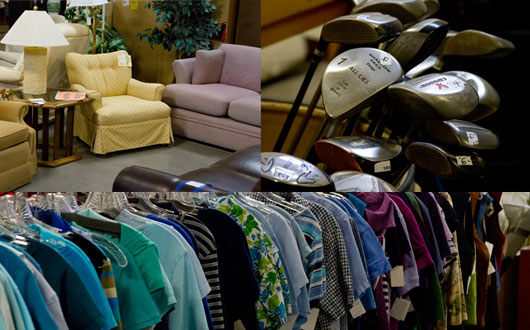 Available at the Country Fair White Elephant – Visitors will find a Unique treasure trove of Gently Used, Pre-Owned items from Clothing to Home Electronics. Thinking about taking up or continuing the game of golf? We have a wide selection of Clubs and bags available! Want to enjoy a nice bike ride through Green Valley but are without two wheels? We have a selection of bikes for many sizes. Audiophiles will love the collection of Vinyl Albums of genres from Classical to Contemporary. Movies are also available on Blu-Ray, DVD and Yes, a large collection on VHS.
Stop on by the Country Fair White Elephant Thrift Store and uncover your buried treasure!
You can expect to see Christmas items, affordably priced jewelry, collectibles of all types with many surprises, patio items, tools, books, toys, hats, purses, belts, shoes, and of course clothes.
You'll find some new clothes with retail price tags like Chico, Polo, Ralph Lauren, Jay Jill, White House Black Market clothes, and much much more. Plenty of dressing rooms are available as well as free standing mirrors throughout the store.